Antibiogram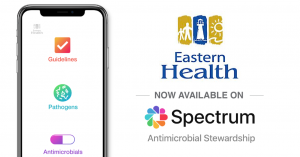 Newfoundland and Labrador has the highest rate of antimicrobial use among provinces.  One of the principles of antimicrobial stewardship is the use of antimicrobials according to local patterns of antimicrobial resistance among bacteria.  The Eastern Health Antimicrobial Stewardship committee has developed a decision support tool for health care workers of all professions in the province, containing treatment recommendations based on local resistance rates, called the Spectrum App.
The Spectrum App is now available for free use. Please download the app and select the Eastern Health location, or access the web version at https://spectrum.md/eastern-health. We will evaluate the impact of the app on the appropriateness of antimicrobial prescribing among inpatients in St. John's.  The app will be updated regularly.
The Spectrum App contains recommendations for empiric treatment by syndrome, de-escalation of treatment at day three, resistance rates by pathogen, information on antimicrobials customized to NL, and recommendations for de-labeling penicillin allergy.  The app reports usage by hospital and by profession, and welcomes user feedback within the app.  It has been programmed in collaboration between pharmacy, medical microbiology and infectious diseases.  Recommendations are based on published guidelines and expert opinion.
Latest Updates
Jan 1
More »
Jan 1
More »